It's no secret that Florida is the No. 1 retirement destination for New Jersey residents. And when looking for an affordable retirement home in sunny central Florida, it's impossible not to stumble upon The Villages, located about 45-minutes northwest of Orlando. With more than 130,000 residents, it's the world's largest retirement community, and has been billed as a sort of a "Disneyland" for adults for all of its amentities, activities, social clubs, shopping and entertainment.
With so much curiosity about the development from people across the country considering a move, several YouTube channels have sprung up over the years detailing daily life there. The best of these channels in our opinion is The Villages Florida Newcomers, run by a couple named Jerry and Linda. Transplants from Indiana, they're down-to-earth and knowlegedable, and offer an honest look at daily life in The Villages. They are a fountain of useful information for anyone thinking about retiring to The Villages.
Here'a link to their YouTube channel, where you can find answers to just about question you may have about life in The Villages:
https://youtube.com/c/THEVILLAGESFLORIDANEWCOMERS
In addition, Jerry and Linda were kind enough to answer some questions from our New Jersey readers recently. Their answers are below in bold.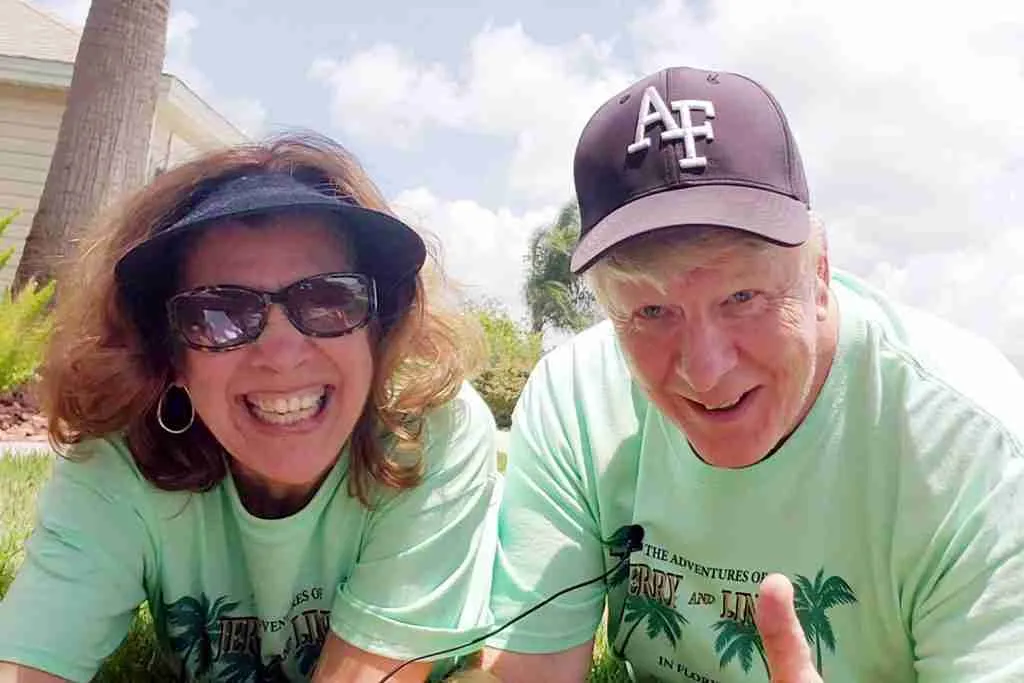 Q. How did you start your YouTube Channel?
"Our YouTube channel began by accident. When we moved here in 2018, all three of our sons were in the military and no longer lived with us. We sold our home of 33 years and moved to Florida. Since our boys had never seen our new home, we sent them a video in an email. The file was too big and it bounced back. Our oldest son said, "put it on YouTube and I will watch it there." We did just that, and before you knew it, we had a dozen subscribers. We thought that was quite odd. We made a few more videos of our new home and the process it took to get there. Before we knew it, the subscribers were piling up. Since then we have produced over 300 videos and have accumulated almost 42,000 subscribers. We absolutely love meeting and interacting with people from all over the world. It has been a wonderful experience for us and some of the very finest folks that we have met have been from New Jersey.
Q. When the grandkids come to visit, they're probably going to stay for a while because of the distance from New Jersey. Are fellow Villagers accepting of this?
Absolutely! There are so few children that we really enjoy seeing them when they visit. We have had friends and neighbors entertain them at their homes. Our grandkids have enjoyed our neighbors, and vice versa.
Q. What are some fun things you can do with the grandkids when they visit?
We take them to the dog park and the nature preserve. We have flown kites, fished, and gone to the entertainment at the Town squares. We have taken them to the driving range and they LOVE riding with us in the golf cart. We have taken them on the carts for burgers and ice cream. Of course the beaches are 2 hours or less by car. Kids love to go to the beach.
Q. New Jersey residents love their pizza and bagels. Is there a good selection of pizzerias and bagel spots in The Villages, and do any of them get a stamp of approval from Northern transplants?
Yes! There are plenty of places to get pizza and bagels. They are just fine for us Indiana folk, but our Jersey friends here do not think they stack up to the ones back in New Jersey.
Q. New Jerseyans also appreciate a good diner. Are there any in The Villages?
There are pretty good diners here. None of them that we know of are open 24 hours like some of our friends from New Jersey have enjoyed up there. Darrell's diner, the metro diner, and some mom and pop restaurants like Rae Rae's, Wolfy's, and Mary's Kountry Kitchen come to mind. We have been in search of the delicious Indiana tenderloin we enjoyed up there, but have yet to find it here.
Q. In your experience, do Jersey drivers make good golf cart drivers, or are we going to need some retraining?
Well, aside from the fact that you can't get a Jersey girl to pump gas… they make fine drivers. The golf cart lifestyle is what it's all about. The good thing though is that you don't gas up very often. We get about 250 miles on 5 gallons of gas.
Q. New Jerseyans also love their Dunkin' Donuts and Starbucks drive-thrus. Do drive-thrus exist in The Villages or are we going to have to get out of our car if we want a cup of coffee?
Hey, we are not in the sticks! Of course you can get your Starbucks, your Dunkin Donut fix, your Krispy Kreme fix, and we even know of a wonderful little donut place called Dip A Dee Donuts in Leesburg where you can drive up and get some super delicious donuts.
Q. What is your most favorite thing about life in The Villages?
The best thing about The Villages is the people. We are surrounded by amazing people. We can have an idea and before you can shake a stick, we can round up 6, 8, or even more people to play cards, go to the town square, or just hang out. The golf cart lifestyle is hard to beat as well. It is so fun to be able to jump in your golf cart and go visit friends, take your dog to the dog park, or just cruise around.
Q. What is your least favorite thing?
We love warm weather. What we don't love are these scorching days with high humidity. On those days we generally stay inside until it cools off a little bit. We tolerate those days to be able to enjoy all of the wonderful weather that we get.
Q. How has COVID impacted the social scene at The Villages and do you have a sense of whether it will ever return to the way it was pre-COVID?
I am hesitant to say, but things have pretty much returned to normal. People have now begun to eat at restaurants, go to the town squares, and socialize. The recreation centers are operating at 100%, the pools are all open, and the sports leagues are in full swing. We still try to be conscientious by keeping a distance especially with strangers. Some of the movie theaters have closed and have not reopened, and the trolleys that once operated in all of the town squares have not started back up.
Q. Are there social clubs for people from different states and is there a New Jersey club?
Yes, there are clubs for just about every state. We don't know of anyone in the New Jersey club, but there is one. We bump into New Jersey folks quite often.
Q. Now that you have lived in The Villages for several years, are you happy with the decision you made to move there?
We think that we speak for a lot of people when we say that it feels like we are on a permanent vacation. We love it here. Life is good here. We thought we were happy before we moved here, but since moving, we now feel like we should have done it sooner. If sometimes we just pinch ourselves, life is so good.
Q. If you were buying your house there again, is there anything you would have done differently?
Yes, with the incredible demand for homes here, and the skyrocketing prices, we wish we had bought 2 homes! We came from property that was very private. Privacy here is much harder to get. If we had it to do over again, even though we love our home, we might have gone for one with more privacy. Our home is fine, and our view is better than most, but there are some with fantastic views.
Q. Finally, and we're sure you are asked this question a lot, what is your opinion of the documentary "Some Kind of Heaven." Were there any parts of that movie that you believe were an accurate portrayal of life in The Villages?
We watched that movie. We even interviewed the writer/director on our show. He is a very nice young man and we wanted to believe that his motives were good. We now think that perhaps it was just sensationalism. We don't know people like the ones he featured. Of course they do exist. They would exist anywhere with a population of 100,000 or more like we have here. Our hearts go out to them, but we don't believe they were typical at all. When you go looking for something you can generally find it.