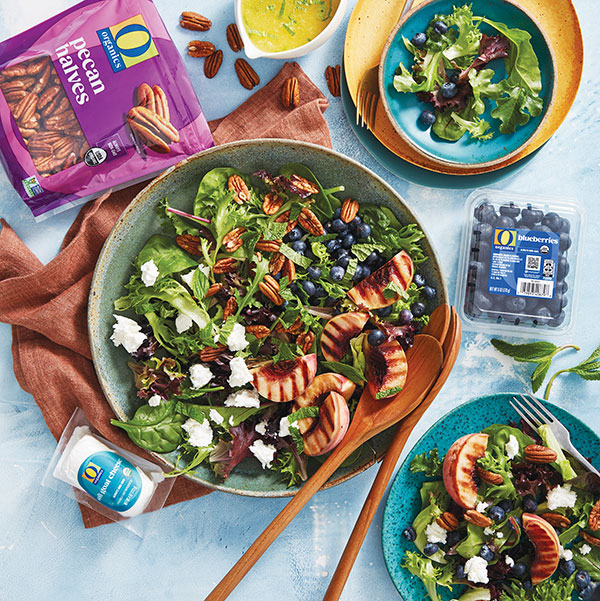 Grilled Chicken Salad with Goat Cheese, Fresh Blueberries and Pecans
Recipe courtesy of Safeway and Albertsons
Total time: 20 minutes
3/4 pound boneless, skinless O Organics chicken breasts
1/4 teaspoon salt
1/8 teaspoon black pepper
2 teaspoons O Organics extra-virgin olive oil
1 package (5 ounces) O Organics spring mix
1 package (6 ounces) O Organics blueberries (or desired berry)
1/4 cup O Organics pecan halves
3 tablespoons O Organics olive oil
1 tablespoon O Organics balsamic vinegar
1/2 log (4 ounces) O Organics goat cheese
Pat chicken dry with paper towels and place on cutting board. Cut chicken in half horizontally to form thin cutlets. Season with salt and pepper on both sides.
Preheat grill pan, outdoor grill or skillet to medium-high heat.
Once pan is hot, coat with oil. Add chicken to pan and grill, turning once, until cooked through, 3-4 minutes per side.
Wash and dry spring mix. Place in medium bowl.
Wash and dry blueberries. Add to bowl with mixed greens. Using clean cutting board, roughly chop pecans. Add to bowl.
Transfer cooked chicken to cutting board and cut into thin strips.
In bowl, mix olive oil and balsamic vinegar to create dressing.
Add chicken and dressing to salad bowl; toss to combine.
To serve, divide salad between plates or bowls and crumble goat cheese over top.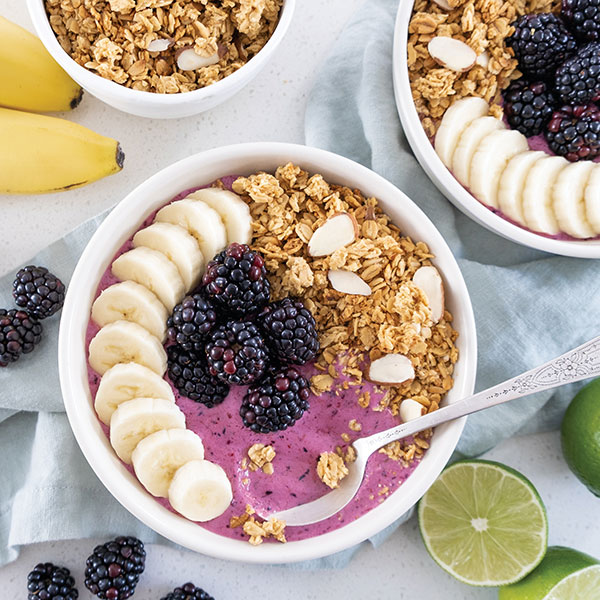 Mixed Berry-Lime Smoothie Bowl with Banana and Granola
Recipe courtesy of Safeway and Albertsons
Total time: 10 minutes
Yield: 3 cups
1 banana
1/2 package (6 ounces) O Organics blackberries
1/2 lime
2 cups O Organics frozen mixed berries
1 cup plain O Organics Greek yogurt
4 fluid ounces O Organics whole milk
1/8 cup O Organics honey
1/4 teaspoon ground cinnamon
2/3 cup O Organics granola of choice
Wash and dry banana and blackberries.
Peel and thinly slice banana; set aside.
Zest and juice lime into blender. Add frozen mixed berries, yogurt, milk, honey and cinnamon. Blend on high speed until smooth, 1-2 minutes.
To serve, divide smoothie between bowls and top with banana, blackberries and granola.
SOURCE:
Albertsons
Safeway