(Family Features) For many looking to make healthy dietary changes, weight loss is a primary concern. Because the Dietary Guidelines for Americans recommend 45-65% of daily calories come from carbohydrates, an eating plan like the ketogenic diet (or keto, for short), which involves consuming a low amount of carbs and replacing them with healthy fats, can be a popular choice for achieving weight loss goals.
Replacing carb intake with fat can put your body in a metabolic state called ketosis, which makes you more efficient at burning fat for energy. The keto diet can also help reduce blood sugar and insulin levels and lower risk for certain diseases.
Those following the keto eating plan typically significantly reduce or avoid consuming bread, pasta, rice and baked goods, which are all traditionally high in carbohydrates. However, Toufayan Bakeries introduced a line of keto-friendly wraps, pitas and flatbreads that are high in fiber and protein while containing no sugar and being lower in carbs than traditional bread.
"We take great pride in baking our family's favorite breads for families across the U.S.," said Karen Toufayan, VP of marketing for Toufayan. "Across the country, people following the keto diet have been missing their favorite bread products. We are thrilled to introduce Toufayan's first line of keto-friendly breads and hope they love them as much as we do."
Try serving these satisfyingly light solutions as the base ingredients in these delicious recipes for a Keto Egg and Sausage Flatbread or Keto Enchilada Quesadilla from chef George Duran.
Find more recipes to support a ketogenic eating plan at
Toufayan.com
.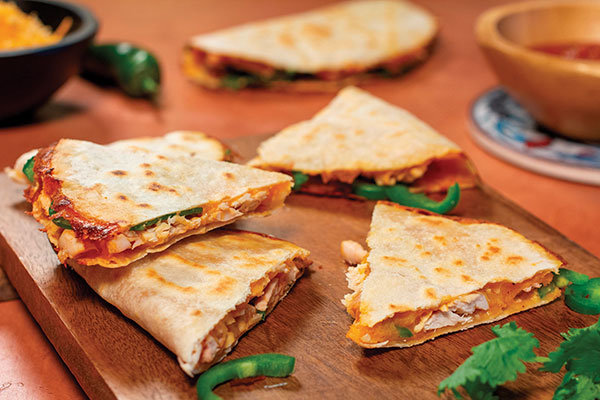 Keto Enchilada Quesadilla
Recipe courtesy of chef George Duran
Yield: 1 quesadilla
Rotisserie chicken, pulled and chopped
enchilada Sauce
olive oil
Toufayan Bakeries Keto Wraps
Tex-Mex cheese, grated
jarred or fresh jalapenos, thinly sliced
cilantro, chopped
salsa, for serving
In bowl, mix pulled chicken and enchilada sauce until fully covered. Set aside.
Spray or brush olive on both sides of keto wrap and place on nonstick pan or skillet over medium heat. Once wrap is heated on one side, flip and heavily top entire wrap with grated cheese. Allow cheese to melt then disperse chicken mixture, sliced jalapenos and chopped cilantro on half of wrap. Fold wrap over ingredients and cook until quesadilla is golden brown on both sides.
Cut into three triangles and serve with salsa.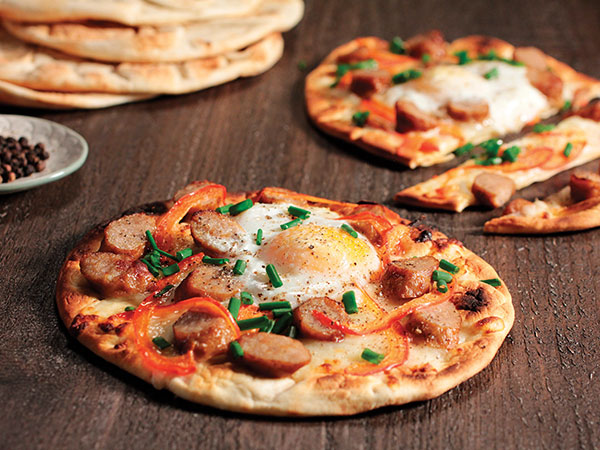 Keto Egg and Sausage Flatbread
Yield: 1 flatbread
1 Toufayan Keto Flatbread
1/4 cup shredded mozzarella cheese
2 cooked sausage links (approximately 2 ounces each), cut into pieces
1/4 cup thinly sliced red bell pepper
1 large egg
1 tablespoon fresh chives
salt, to taste
pepper, to taste
Preheat oven to broil.
On foil-lined baking sheet, place flatbread and top with mozzarella cheese; add sausage pieces and bell pepper.
Crack egg in center of flatbread and broil 5-8 minutes, or until egg is cooked to desired firmness.
Remove from oven and top with chives.
Season with salt and pepper, to taste, and serve.
Nutritional information per serving (1 flatbread): 435 calories; 29.1 g protein; 25.6 g fat; 8.6 net carbs.
SOURCE:
Toufayan